Limited Time Offer: Grab a copy of "Affiliate Sales Army" within the next 72 hours and you'll get my personal video walk through of all 20 methods in the PDF!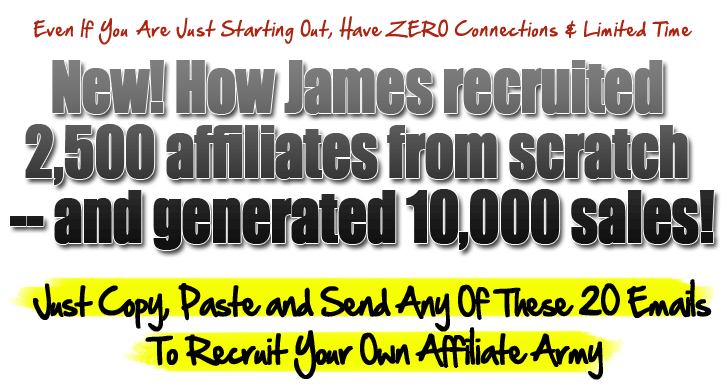 Hello,
When I was just seventeen (nearly five years ago now) I created my first product.
I priced it at $27, put it up on the Clickbank Marketplace and set the commission pay out to be 75%.
I thought that was it.
I thought affiliates would simply find my product, send out their promotions and I would sit back on a beautiful island in the Maldives with an ice cold Mojito while refreshing my Clickbank account every few minutes. 
It didn't really work out like that.
Turns out you actually have to FIND affiliates and contact them. And even then they normally politely decline. Or just plain old ignore you!
This making money by creating your own product lark wasn't going to be as easy as all the "gurus" made out…

Problem #1
I was struggling just to find anyone that would have the necessary "resources" to promote my product.
I couldn't find the email list owners, the bloggers, the product creators or the paid advertisers that were capable of driving significant traffic and generating the volume of sales I was hoping for. I knew they were out there, but locating them was nigh on impossible. Or so it seemed.

Problem #2
Once I did find them I had no idea how to convince them that they should promote my product.
It seemed that marketers with the big lists and the huge traffic only promoted for you if…
You'd made thousands of dollars promoting THEIR products FIRST.
You'd sucked up to them at conferences and events.
You did them a huge favour that would take up hours – or days – of your valuable time.

Since those early days five years ago I have created a number of products and have recruited over 2,500 affiliates to promote those products. I've generated over 10,000 sales with over 90% of those coming because of those affiliates I've recruited.
I've had some of the biggest names in the industry promote my products despite having no existing relationship. I don't suck up at conferences and events (I've NEVER been to one), I don't generate thousands of dollars in commissions for them and I don't spend my time doing their monotonous tasks.
I simply send one (sometimes two) copy and paste emails with a unique twist that forces them to open it, EXCITES them about promoting my product, and more often than not, results in them blasting a promotion to their huge database of subscribers – or putting a banner or a text link on their overwhelmingly high trafficked blog.
Plus, I've developed a number of strategies (some of them unheard of before) that enables me to unearth hundreds (and sometimes thousands) of potential affiliates no matter what market you are in.
And I'm not just talking about the big name affiliates that everyone's heard of and everyone's approaching, I'm talking about the under-the-radar affiliates that NO ONE knows about who you can EASILY convince to send serious volumes of passive traffic to your offer every single day like clockwork. 
And I reveal all of my affiliate finding and approaching strategies in this reveal all guide that is going to explode your sales and your profits.
Here are just some of the things you'll discover inside.
| | |
| --- | --- |
| 1 | Module 1: My Unique Affiliate Approach Formula |
The EXACT email I send to potential affiliates that gets them to promote my offer even if they've never heard of me, never had any interaction with me and even if I don't promise to promote their product, too.
How I make every single email I send to an affiliate APPEAR personalized, even though I'm sending the same copy to everyone. This is completely ethical and takes advantage of a concept I like to call "Batching". It means you can copy and paste the same email to hundreds of affiliates per hour WITHOUT being ignored every time.
My unique follow-up formula that makes your proposal absolutely IRRESISTIBLE to potential affiliates. They will be chomping at the bit to promote your product once you send THIS copy and paste email.
How to use just one of these five "Deal Sweeteners" to convince even the most difficult to please marketer to promote your offer with their full force.
And if all of the above fails, I've got five insanely out of the box ideas you can use that will take your potential affiliates by such surprise that they won't be able to resist promoting your offer.

| | |
| --- | --- |
| 2 | Module 2: 20 Ways To Unearth New Affiliates To Send You Rivers Of Passive Traffic & Floods Of Instant Sales |
Here is just SOME of what you will discover – and I do mean "some" because a few of the methods are so powerful and so innovative that I daren't reveal them here.
How I, with just 30 seconds "research", unearthed 44,000 (yes, forty-four thousand!) of my competitors affiliates and the exact copy and paste email you can send to get these affiliates to promote your offer, too.

How I siphon hundreds of affiliates from this mammoth online resource that you've definitely heard of, but never thought of using in this way. Plus a copy and paste email you can send to recruit them to your affiliate program.
How to find the authority blogs in your market getting 1,000+ visitors per day – and how you can convince them to start funnelling their traffic to YOUR offer.
How you can "hijack" other people's top ranking articles and get them to send you free, targeted, passive traffic and sales. I reveal a real life example and share the exact email you can send to these potential affiliates.
How to get hundreds of passive visitors per day by getting YouTube publishers to send you free traffic.  Some of these publishers get 1 million plus visitors per year – yet many of them will never have even heard of affiliate marketing. I reveal how you can educate them, excite them and convince them to send you their traffic – all with this one copy and paste email. This method is one of the most powerful things you'll ever discover.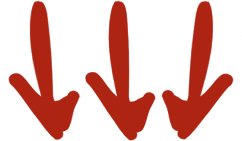 How to find underground email list owners using these four secret directories who can blast a promotion for your product to their MAMMOTH email lists. I used this strategy to uncover an affiliate who generated 550 sales for one of my products.
A secret resource revealing over 100 active affiliates who are PROVEN to sell products in your marketplace – and how you can find many more of these resources.
Two unique approaches to find your competitor's BEST affiliates and the one proven email you can send to get them to promote your offer, too.
One under-utilized resource revealing 35 email list owners with an estimated 1 million plus combined subscriber database and the unique strategy you can implement to get them to endorse your product to their huge lists.
How and where I placed an ad that exposed my affiliate program to 1,177 of the internet's top affiliates. Just one of the affiliates I recruited with this strategy generated over 140 sales for my product.
A unique five step formula to turn your customers into active affiliates driving sales to your product. Once you get this set-up you will have a self-perpetuating system that works on complete auto-pilot.
How I got 50 new registered affiliates in just ONE day using powerful "affiliate swaps" that take just 10 minutes.
And much, much more – and I mean that!

If you download this guide, read through the strategies and implement them – or pay someone else to do it for you – then I have absolutely no doubt that the sales for your product will come flooding in.
You'll be able to recruit affiliates who can passively send you hundreds of visitors and tens of sales every single day.
You'll be able to recruit affiliates who can send just one email to their subscribers and make 100+ sales for your product in as little as 24 hours.
And you can recruit as many of them as you want. The more time you spend, the more affiliates you'll get.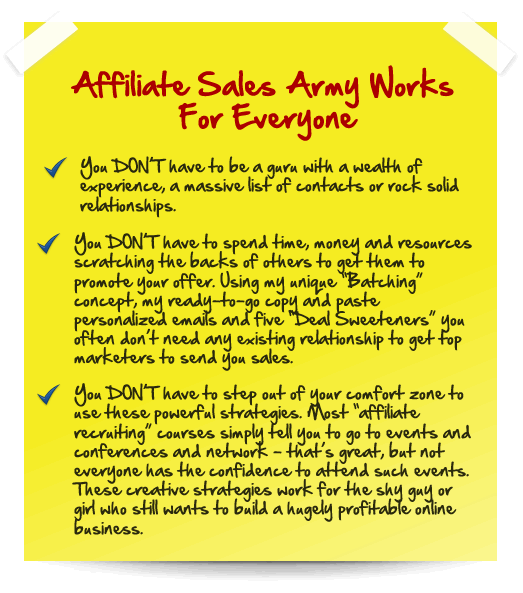 If you have your own affiliate program, or if you plan to have one in the future, this WSO may change your life.
The one biggest problem holding you back – Getting Affiliates – will be eliminated in an instant.
You'll be armed with the knowledge to have some of the most powerful marketers in your niche sending YOU traffic and sales. And you can recruit as many of them as you want.
These strategies WORK (I'm living proof!) and for the first time ever I'm prepared to share them with my fellow marketers.
Now you have two choices…
Choice #1 – Keep doing what you're doing. Searching high and low for top affiliates but without much success, and when you do find one have them simply ignore your proposal email. 
Choice #2 – Arm yourself with my secret tactics to find THOUSANDS of people who can send raging torrents of targeted traffic and sales for your offer. Plus my ninja strategies that make sure your proposal email not only gets read, but turns a potential affiliate into an ACTIVE one.
And just in case you can't decide which choice to take, let me help.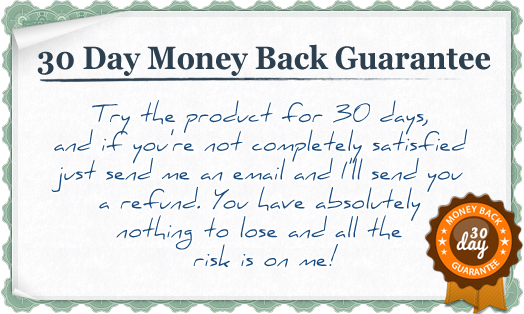 Here's my promise to you…
If after downloading Affiliate Sales Army you don't feel that the entire package was worth the price you paid – then I will refund your money.
I won't ask any questions, I won't sulk or moan, I'll just refund your payment within 24 hours.
There is absolutely ZERO RISK with this offer.
If you love the methods and strategies, then you'll be armed with the knowledge to recruit hundreds of affiliates who can generate thousands of sales for your product.
You have absolutely NOTHING to lose and everything to gain.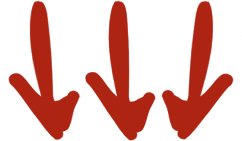 No Thanks
Click the Add to Cart button above and I'll see you on the other side. I have a few special bonuses for you.
Thanks,
Marlon Sanders on behalf of
James Penn